Forest Fitness NI recently had the pleasure of hosting an exciting Halloween event with special guests from PAKT Family and YMCA Carrickfergus. The event was a spooktacular affair, filled with thrilling activities like laser tag, laser combat, and even a zombie apocalypse challenge. Let's dive into the exciting day filled with fitness, fun, and frights!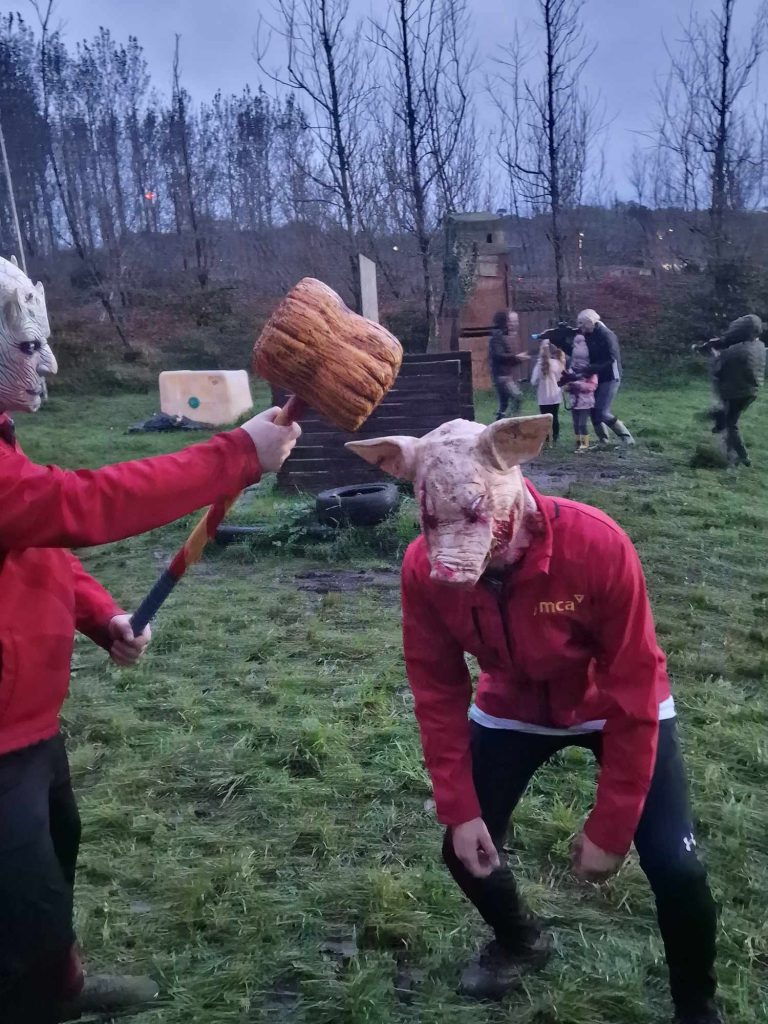 Halloween is a time for costumes, candy, and, of course, spookiness. But this year, Forest Fitness NI decided to take it up a notch by welcoming PAKT Family and YMCA Carrickfergus for a memorable Halloween experience. Participants came together for a day filled with laughter, heart-pounding adventures, and a dash of horror.
Things kicked off with Airsoft
The event kicked off with an adrenaline-pumping session of airsoft. The lush surroundings of Forest Fitness NI provided the perfect backdrop for these thrilling activities. Participants of all ages had the chance to team up, strategize, and engage in friendly combat while navigating through the forest. The dense trees and rugged terrain added an extra layer of excitement, making it feel like a real-life video game.
Zombie Apocalypse Challenge
For those seeking a more spine-tingling experience, the zombie apocalypse challenge awaited. Participants were tasked with surviving a simulated zombie outbreak, where they had to use their wits and teamwork to avoid becoming a "zombie snack." The eerie forest setting, complete with fog machines and eerie sound effects, added an authentic touch to the challenge. It was a test of bravery and quick thinking as participants tried to outsmart the undead.
What made this Halloween event at Forest Fitness NI truly unique was its fusion of fitness and fun. While laser tag and the zombie apocalypse challenge were undeniably exhilarating, they also provided a fantastic workout. Participants had to be quick on their feet, communicate effectively with their teams, and use their problem-solving skills to come out on top. It was a fantastic way to stay active and healthy while enjoying the Halloween festivities.
#HalloweenatForestFitnessNI
Social media was buzzing with excitement as participants shared their experiences with the hashtag #HalloweenatForestFitnessNI. From thrilling action shots during laser tag battles to hair-raising encounters with the zombie horde, everyone had a story to tell. The event became a memorable highlight of the Halloween season for everyone involved, creating lasting memories and connections.
Forest Fitness NI has always been about fostering a sense of community and camaraderie. The Halloween event with PAKT Family and YMCA Carrickfergus was no exception. It brought together people of all ages and backgrounds, strengthening the bonds within the community. As participants faced challenges, solved problems, and celebrated victories together, they not only had fun but also created lasting connections.
Forest Fitness NI's Halloween event with PAKT Family and YMCA Carrickfergus was an unforgettable experience that combined fitness and fun in a uniquely thrilling way. The event showcased how physical activities can be transformed into exciting adventures, uniting people and fostering a strong sense of community. As the day came to a close, it was clear that Forest Fitness NI had once again delivered an extraordinary event, leaving everyone eagerly anticipating the next exciting adventure in the heart of the forest.